I have to tell you about some scary things that happened.
My sewing machine,
STOPED
WORKING........
DUN
DUN
DHHUUUUUNNN!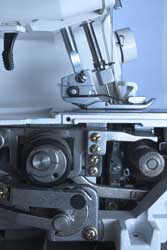 Let me give you a little history.
huummmm, where to begin.
I got my machine,
almost 5 years ago.
And it has been moved to 4 different states,
and has been a champ.
See how pretty it is...
Since we moved here to this little town,
and I have a craft room,
I have used it almost everyday,
but it still is working great!
I love things that work, like there supposed to.
Anywho, the past month,
it hasn't been working right!!
I know!!
This is especially horrible, for me!
I did everything that I could think of to fix it,
besides taking it a shop.
(I really have a problem with paying someone
to fix things for me)
Well, I took it apart.
At least, the body cover, things.
I found a thread that wasn't supposed to be there,
causing all of this heartache.
After oiling and cleaning everything,
I put it back together.
I started to sew,
...................fffrrroo0o0o0o0o0o0oom.................
(that's my machine working)
.....RGFKJHKEYRKJBFKAJFH.....pah..
(that's my machine not working)
Frustration.
GRRR....
The motor stopped going!
Well, I took it apart again.
The knob on the side would turn backward,
but not forward.
Explain THAT!
I was starting to break down a
teensy bit.
In comes my
Knight in shining armor!
My husband.
He would be the first to admit he knows nothing about sewing machines,
but he sure has good timing.
He looked at it for about 2 minutes,
"This screw is loose."
He says.
After I put it back together,
my machine has never worked better.
The knob has a screw in it,
and when I walk the foot forward,
it loosen the screw.
But when I walk the foot back, it tightens the screw,
bad design there!
Disaster averted for now,
hopefully all will be well in this household,
for a while.
I'll will be crossing my fingers just in case!